This Sunday, May 31st, the church celebrates the Feast of Pentecost. 50 days after Jesus' resurrection, his followers have done what he asked when he was about to ascend to God the Father – gather together and pray. Pray they do and on that first Pentecost Sunday, the Holy Spirit descended in wind and sound and flame – the church of Jesus was born, the disciples of Jesus empowered, the world never to be the same.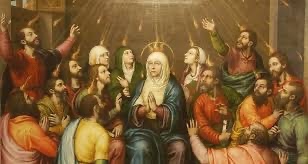 It has been over 10 weeks since we could gather together for in-person worship. We are steadily working towards the day when we can do so again. But we will not do so until we are as certain as we can be that the situation in our community warrants the attempt.
Even when we do, church will be very, very different. Precautions we must take will make it so. We will have detailed information for you when that time comes of course. Also, OF COURSE, no one should feel obligated to attend in-person worship until they themselves are ready and comfortable doing so. We will do our best to lower the risks, but we all know that no plan is full proof and we cannot completely eliminate risk. I am counting on each of you to make mature and safe decisions which are best for you.
But it IS Pentecost this Sunday, so we will do something different. As you probably have seen in Wednesday's email, last Sunday's announcements, and elsewhere in the Epistle, we are encouraging a Pentecost parade to the church via cars, where you will be able to receive communion for the 1st time since the Covid shut down took affect. Those details are in the Epistle and on our Facebook page and website. I am greatly looking forward to seeing many of you, masks on of course, and sharing communion with you. I too have fasted from receiving all this time. I could receive, following the prayer book rubrics, but it felt very wrong for all of you to fast from communion while I did not. So I chose early on not to. There are those who believe the Eucharist is not "valid" unless the priest, at least, receives. Since none of us are receiving I am not sure why that would matter anyway. As we have heard over and over – we are all in this together, and I decided that would apply to clergy receiving communion as well. It is a heart breaking act on Sunday when we consecrate a little wine and bread and then immediately place it in the aumbry. Something is missing in our lives, in our souls. But fasting from communion does help us want it all the more, so we are attempting a way to share the body of our Lord this Sunday.
So with the Bishop's permission, we will consecrate extra wafers this week, the people present in person for the live streaming (all 3 of us!) will receive and then you will too, if you desire to drive down and join the parade. This offering may stretch the bounds of sacramental theology a bit, but I think going straight from the altar to you as you drive up, having participated in the Eucharist via live stream and prayed as those first disciples did for the Holy Spirit and the presence of Christ, this distribution is certainly valid. I cannot tell you if we will do it this way again, but I can tell you – I can't wait!
There is a wonderful Orthodox theologian, now deceased, named Alexander Schmemann who wrote a great book about Eucharist, called For the Life of the World. In it he declares the procession at the beginning of church actually begins when each of you get in your cars and back out of your driveway. You, by that action, are making a public statement about your faith. Let's do that Sunday, all who are able. Watch the live stream first (that is quite important to all this actually). Wear Pentecost red and take pics and send them to my wife, Jennifer (RnTwins@gmail.com) for future slide shows. Then from noon to one, arrive at the church for communion, and maybe even a little Holy Water. Some of you may want to decorate your cars, feel free! Cause it is PENTECOST Y'ALL! Time for a parade. Time for the body of Christ to receive the body of Christ. Hope to see you in procession. I love and miss you all.
Fr. David+