Last week my mother suffered a stroke. She is doing ok and beginning the long road of rehab and recovery. Jennifer and I spent Friday and Saturday in Hattiesburg with Mom, visiting when allowed to (she was in ICU then). I am so blessed to be part of my family, my four brothers and their wives and children as well as my own kids, especially during challenging times. My daughter Mackenzie left work and drove to Hattiesburg from the coast of Mississippi as soon as she heard. She is a Neuro Nurse Practitioner and has dealt primarily with stroke patients her entire medical career. She was a huge help explaining things to Mom and the rest of us. Having Jennifer there with her medical knowledge and love for my mom made a huge difference also. She made sure mom's care team was on the job and doing what they needed to be doing.
I returned Monday for a quick visit as she was settling into the rehab floor. My brothers and I mapped out a game plan for the coming weeks. My mother is 85 and other than giving birth to her 5 sons, she had never been admitted to a hospital before!
Sunday morning I was back at St. Simon's when I received the terrible news that my friend and colleague, the Reverend Chuck Culpepper, had died very unexpectedly the night before. If you are on Facebook you can go to his page, now set up as a tribute site, and read hundreds of heartfelt comments about Chuck, his ministry, his laughter, his love of all God's children and his amazing ability to make anyone, especially young people, understand they too are beloved of God. Chuck was currently serving as Rector of St. Luke's in Brandon, MS and Vicar of St. Alexis in Jackson, MS. He had just finished a camp session at Camp Bratton-Green. Chuck was a legend as a camp director and as a spiritual director for Happening and Vocare. His deep and incredible involvement in youth and young adult ministries in the Diocese of Mississippi has helped shaped the lives of literally thousands of young people in the diocese, including all three of my children. He will be deeply missed, please pray for Chuck, his wife Katherine and son Andy, and all of us who grieve his loss.
Chuck was 69 and as one of the Facebook posts said, he was always the youngest person in the room. I loved hanging out in the back right corner of the main conference room at Gray Center during Clergy Conference, where Chuck always sat. He not only was hilarious, he was also brilliant. You could count on him making really insightful comments while always championing those in need. Serving others was a core part of his life and something he lived daily, not just something he talked about.
As a fairly newly ordained priest I was sent by my bishop, along with several other clergy from our diocese, to attend a conference at Camp Allen, the Diocese of Texas' conference center. Chuck offered to room with me. We flew from Jackson to Dallas, along with the late Reverend Hunter Isaacs. In Dallas we were to catch a flight to Houston and drive the short way from there to Camp Allen. However, the airplane for the last leg had mechanical issues and we kept getting delayed and delayed and delayed. We missed the window to arrive in time for the opening service and dinner and the 3 of us decided to rent a car and drive from Dallas to Camp Allen, about 3 ½ hour drive I think. The only car they had available was a purple PT Cruiser, so off we went, leaving Dallas about midnight. We stopped along the way at a gas station in a sketchy area, and we were quite the sight, three priests in our purple Cruiser. Hunter, very unintentionally, kept us in stitches the whole trip. Chuck's laughter was very contagious, and we just made fun of the whole situation on the entire drive. Hunter was rooming with someone he didn't know and was terrified he would wake his roomie up coming in so late. The next morning, he arrived at breakfast (we had all three had maybe 2 hours sleep) with a knot on his head. He had entered his room and dared not turn on a light so as not to bother his roomie, tripped over an end table and hit his head, fumbled around and got a light on to see how injured he was and realized then – no roommate was there! Chuck and I laughed about that, and the really accidentally comical things Hunter said the entire trip, for years after. I know this is a "you had to be there" kind of story, but it has replayed in my mind ever since hearing the sad news. Those memories allow me to hear Chuck's laughter again and again, his easy going nature and quick smile seared into my memories. Good lord we will miss this man!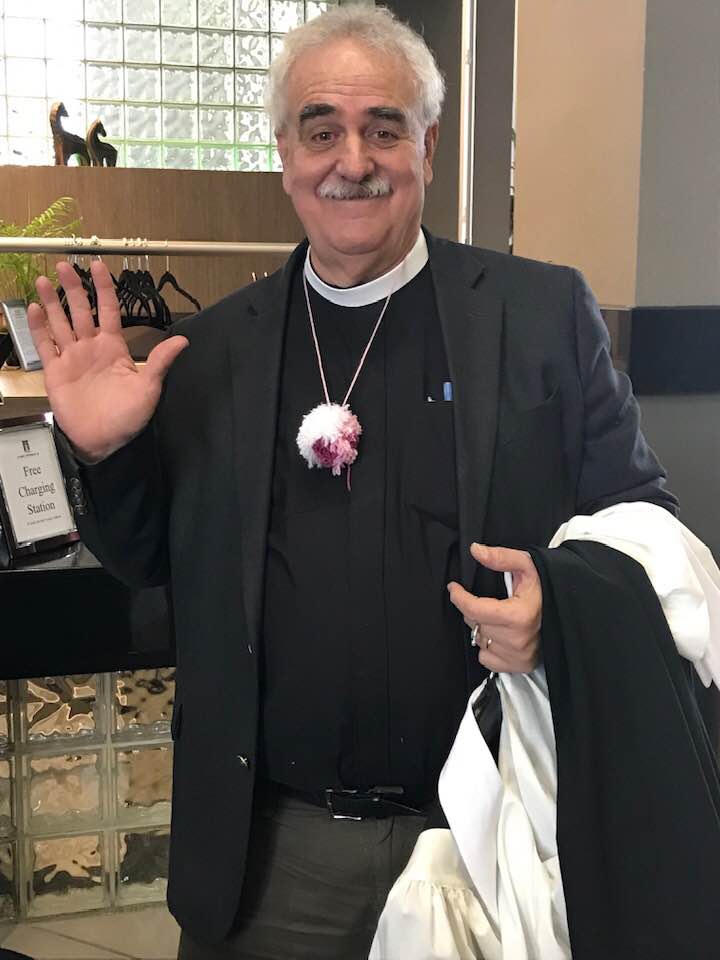 I pray I can be half the priest he was; I can say he taught me a lot about this vocation, and I am forever grateful for his influence on my children and my son-in-law, John Dreyfus. May light perpetual shine upon him, I look forward to the day when I hear that laugh again.